Editorial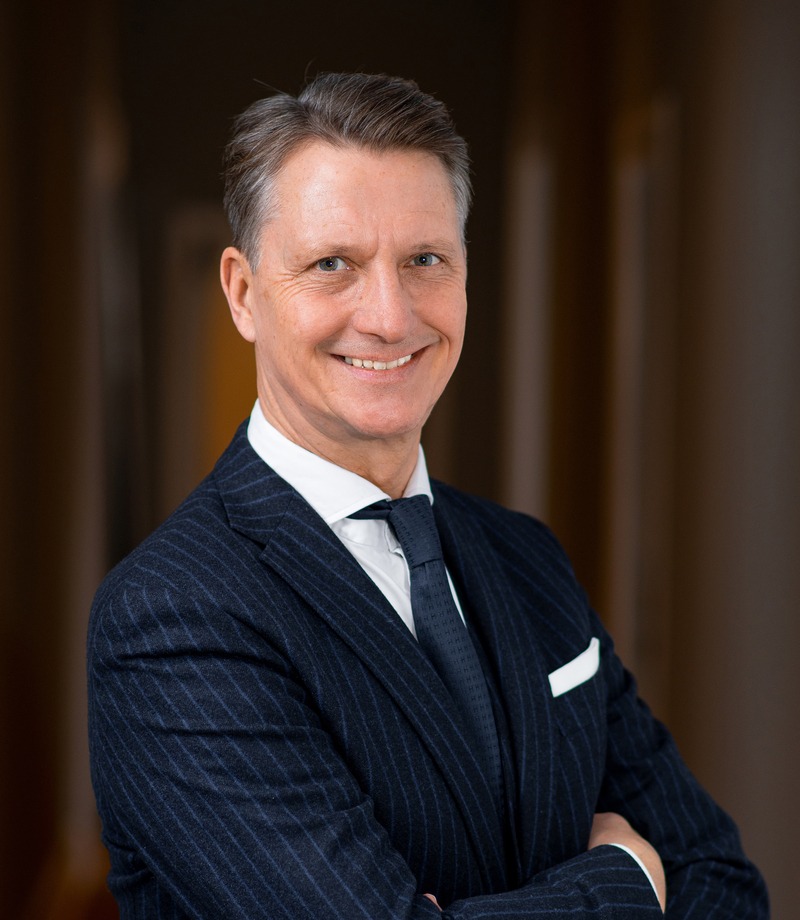 Dear readers, 
we all know: The real estate industry is in a state of flux. The demands placed on buildings have changed dramatically, and office properties are particularly affected by this. Real estate in this asset class must meet entirely new criteria, and not just because of ESG - mobile working has fundamentally changed the requirements for the offices of the future.
The Institut für Deutsche Wirtschaft (Institute for the German Economy) has produced an expert report on the office property market in Berlin and found that demand for high-quality office properties in the capital will continue to rise. No wonder, because with increasing digitalization, the number of jobs in industry and commerce is declining, and more and more people are working in the service sector instead.
But what kind of workplace do office workers want? It's clear that it should offer an advantage over the desk at home. People who go to the office to work do so in order to exchange ideas with colleagues - so we need workspaces that can be flexibly designed and communal spaces with a high quality of stay. This is an exciting task for us as project developers and a great opportunity for the asset class.  
And in the meantime, not only project developers but also the users themselves are attaching importance to the aspect of sustainability. As the abbreviation "ESG" clearly expresses, this is not just about protecting the environment with the help of a low-energy building, but also about meeting social criteria and acting in a responsible corporate manner. I am optimistic that we are already succeeding in meeting all these criteria in new projects, and I am eager to hear the feedback from future users.
Translated with www.DeepL.com/Translator (free version)
Yours, Stefan Klingsöhr 
1_In Berlin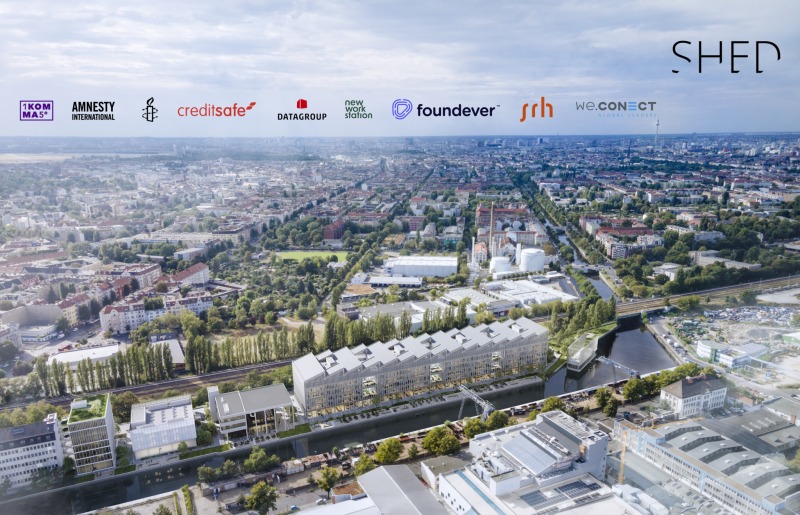 Even in economically difficult times, the KLINGSÖHR group of companies succeeds in finding customers for its products. A sign that quality work prevails even in uncertain times.

An overview of our current lettings:
Creditsafe moves into SHED
Together with DERECO, we have leased 1,000 square meters of space to Creditsafe Deutschland in Berlin-Neukölln. Creditsafe is a global credit reporting agency and will move into the space in the fourth quarter of 2023. The SHED building ensemble offers a total of 35,000 square meters for offices, start-ups and gastronomy and is also used by the SRH Berlin University of Applied Sciences. The investment volume amounts to around 200 million euros.

Foundever leases 5,400 square meters in SHED
Foundever has leased 5,400 square meters on the fourth and fifth floors in SHED's main building. The company provides customer experience solutions. Worldwide, 170,000 employees take care of the customer experiences of more than 750 brands and companies. Colliers assisted with the lease.

Datagroup moves into SHED on 1,600 sqm.
The full-service provider and one of Germany's leading IT service companies has leased 1,600 square meters on the third floor of SHED's main building. Kasten-Mann was involved in the lease.

we.CONECT leases 1,600 sqm in SHED
Also together with DERECO, we leased 1,600 square meters on the third floor of SHED's main building to we.CONECT Global Leaders GmbH. The internationally active media company develops B2B events, decision-making networks and event technologies and makes these available to its clients. CBRE acted as agent for the lease.

Amnesty International Germany moves its German headquarters to SHED
The German branch of the human rights organization Amnesty International has leased 2,000 square meters in the SHED project. The non-governmental non-profit organization will move into rental space on the second floor of the main building in the Neukölln joint project of the KLINGSÖHR group of companies and DERECO.

1Komma5° moves into 1,100 m² in LOFT
Together with DERECO, we have leased 1,100 square meters to 1Komma5°, a fast-growing, pan-European start-up specializing in the field of CO2-neutral energy systems. The space is located on the first floor, second floor and second floor of the LOFT building, the first of four buildings in the SHED project. The first floor will house a showroom and a tech lab. The lease was brokered by Angermann.

Fully leased in Spandau
In the medical center WILHELM23 at Wilhelmstraße 23a in Berlin-Spandau, we have leased to a dermatologist. The future tenant will occupy a total of 230 square meters on the third floor. Seeger KG has also taken a lease here. With these leases, our property is fully let. We are thus helping to close the gap in the medically underserved district of Spandau.

New medical center
We have leased the first space at Galenstrasse 6 in Berlin-Spandau to an internist. A new medical center is being built there, in which a specialist practice for internal medicine has leased 660 square meters on the first floor for 15 years. The building meets all the requirements for modern medical practices, with a total of around 3,900 square meters of usable space available. The property is conveniently located and has good public transport links. There is ample parking and a handicapped-accessible passenger elevator.

DHL moves into HOHE NEUN
In the HOHE NEUN project in Berlin-Neukölln, we have leased 1,250 square meters to Deutsche Post DHL Group together with DERECO. Deutsche Post DHL Group will use the lower floors of the office building as a city hub for last-mile distribution with e-trikes. The HOHE NEUN high-rise comprises 11,000 square meters of usable space on twelve floors.

wwwe GmbH rents 800 m² at HOHE NEUN
The full-service Internet agency wwwe has leased 800 square meters and thus the entire ninth floor in the HOHE NEUN project. Engel & Völkers Commercial Berlin acted as intermediary in the transaction.
Neukölln ist unbestreitbar angesagt: Das "Time Out"-Magazin wählte den Kiez auf Platz elf der coolsten Stadtteile der Welt. Auch dank des Estrel-Hotels genießt der Kiez längst internationales Renommee. Er ist nicht nur bei Besuchern, sondern auch bei Unternehmen und Nachwuchskräften beliebt. Das ist auf ein Zusammenspiel unterschiedlicher Faktoren zurückzuführen. 
Zum einen gibt es bereits jetzt eine Vielfalt an Arbeitsplätzen, was sich durch die neu entstehenden Objekte im Entwicklungsgebiet NEUEN UFER noch steigern wird. Das umfassende Angebot an Kultur, Gastronomie, Clubs und Kunst sowie niedrige Lebenshaltungskosten ziehen junge Nachwuchskräfte aus allen Ländern an. Neukölln ist Berlins drittjüngster Stadtteil mit einem Durchschnittsalter von 37 Jahren und besonders international – 55 Prozent der dort Wohnenden haben einen Migrationshintergrund und Menschen aus 150 unterschiedlichen Nationen kommen dort zusammen. 
Darüber hinaus ist der Stadtteil bestens angebunden dank des Autobahnanschlusses an die A 100, des Flughafens BER, des S-Bahnhofs Sonnenallee und des geplanten Radschnellwegs. Hier ist auch Neuköllns Lage inmitten anderer beliebter Berliner Kieze zu nennen. 
Für Unternehmen ist das Viertel bereits ein attraktiver Standort. Sowohl Start-ups als auch alteingesessene Betriebe bereichern die Neuköllner Wirtschaft. Künftig werden viele weitere Unternehmen folgen – die Nachfrage ist hoch.
2_In discussion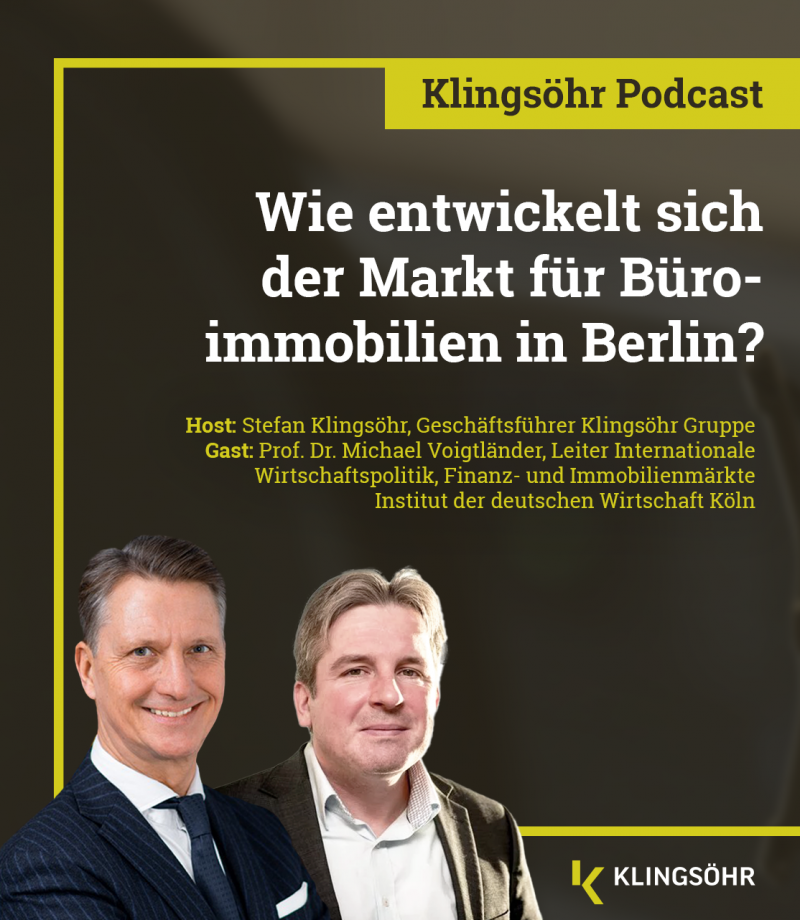 How is the market for office real estate developing in Berlin?
Stefan Klingsöhr, Managing Director of the Klingsöhr Group, talked about this with Professor Michael Voigtländer in our new edition of the Klingsöhr Podcast. He heads the "International Economic Policy, Financial and Real Estate Markets" cluster at the Institute of the German Economy (IW) in Cologne and recently published an expert report on the prospects for Berlin's office property market.
In an interview, Voigtländer talks about what makes Berlin stand out as a location for office real estate. For him, it is clear that demand for office real estate will increase in the capital, because the office employment rate of 42.8 percent is the lowest of all the top seven cities, while at the same time the number of inhabitants is steadily rising. In addition, the number of jobs in industry and commerce is decreasing and the service sector is gaining in importance.
Voigtländer also explains how mobile working and ESG have changed the requirements for office real estate - and what should not be missing in the office of the future despite possibly reduced space.
Listen to the podcast in full here: https://klingsoehr.com/de/podcast/
Herkommer: "What's special about Neukölln is that it forms the interface between Berlin's city center and the boom corridor, not only spatially but also in terms of infrastructure (A 100, S-Bahn, subways). In recent years, the inner-city part of Neukölln has become a mecca for the creative industries. This now meets the opportunities of the Boom Corridor to absorb these impulses and integrate them into specific new urban forms of production and industries. As a result, the district is undergoing an incredible transformation. Neukölln's special role is that so many different functions of the Boom Corridor come together here, and at the same time it has the greatest urbanity in the entire region: many large conference centers and small-scale start-ups, modern courses of study, a digitalized Industry 4.0 and flexible office agglomerations mix with the lively arts and culture scene - this wonderful and productive jumble is unique, even in an international comparison of such Boom Corridors."
What do you tell companies that still have doubts about Neukölln as a location?
Herkommer: "I would say boldly: Be careful, don't miss the train! After all, the Berlin boom corridor is still being developed, there is still potential space, but the city has not yet picked up the pace appropriate for this space in order to activate this space. One thing is clear, however: in the successful axis areas of airport and technology corridors, the city will always prioritize expansion and ensuring infrastructure quality, and that is exactly what companies recognize. In the competition for talent, which will put us under much more pressure in the coming decades, the right location is a crucial factor. Areas where the lively urbanity of Berlin's core city meets the modern production conditions of the airport corridor are extremely rare. Historically, such pioneering regions are considered crisis-proof; they even outlast major structural breaks. Neukölln is perhaps the most urban location of this newly emerging pioneer region, and development is now pushing massively out of the inner city neighborhoods toward the edges. To be here is to be able to take advantage of the opportunities of this development."
3_In the media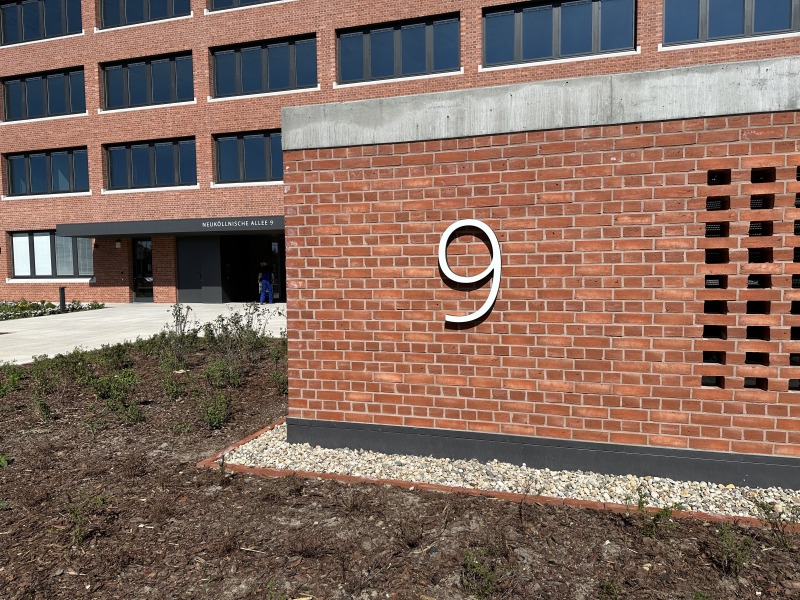 In the second and third quarter of this year, the Klingsöhr Group was again represented in various media, to which our work was worth reporting.  
The "Immobilien Zeitung" reported on our HOHE NEUN project on Neuköllnische Allee. Entitled "Hohe Neun sets standards in Berlin-Neukölln", the article describes how the Berlin district has developed in recent years and what makes it an attractive location for office real estate today, also from Stefan Klingsöhr's point of view.
The continuing high demand for high-quality offices was the subject of the Inside issue "Energy & Real Estate" of the "Handelsblatt". In her article, the author refers to the results of the expert report "Perspectives for the Berlin Office Market", which was commissioned by the Institut der Deutschen Wirtschaft. Stefan Klingsöhr also has his say in the article and talks about the requirements that the office of the future should meet.
CEO Stefan Klingsöhr spoke to "Intelligent Investors" about the valuation of real estate. For him, it is clear that this has changed significantly against the background of ESG, climate protection and "carbon footprint". Buyers increasingly value certified properties, and properties that do not meet these requirements have a hard time on the market.  
>> Link to article

"Berlin - the last paradise for investors?" Stefan Klingsöhr explores this thesis in a guest article of the same name published in the magazine "Immobilien & Finanzierung". And clarifies: The Berlin market defies in turbulent times of recession, inflation and unemployment like hardly another in Germany. Above all, the service sector and Berlin's innovation and technology industry are making a major contribution to this, which is why office properties in the capital are still in high demand.
>> Link to article

"Berlin remains optimistic" - this is the title of an article in the "Politics and Business" section of the magazine "Immobilienwirtschaft". In it, various Berlin industry representatives have their say who see the capital's real estate market on the upswing. One of them is Stefan Klingsöhr, who talked to the authors about our projects in Neukölln, among other things.


 
Second medical center in Spandau
Together with a private investor, the Klingsöhr Group has acquired a high-quality office building at Galenstrasse 6 in Berlin's Spandau district. It is in an attractive location - within sight of the train station and about a five-minute walk from Spandau City Hall. The aim is to position the building as a medical center. This will make the property the second medical center in our portfolio.
Managing Director Stefan Klingsöhr: "We recognize that the need for new space for doctors in the underserved district of Spandau is enormous. We want to support the provision of modern medical practices. The property has 3,864 square meters of usable space."